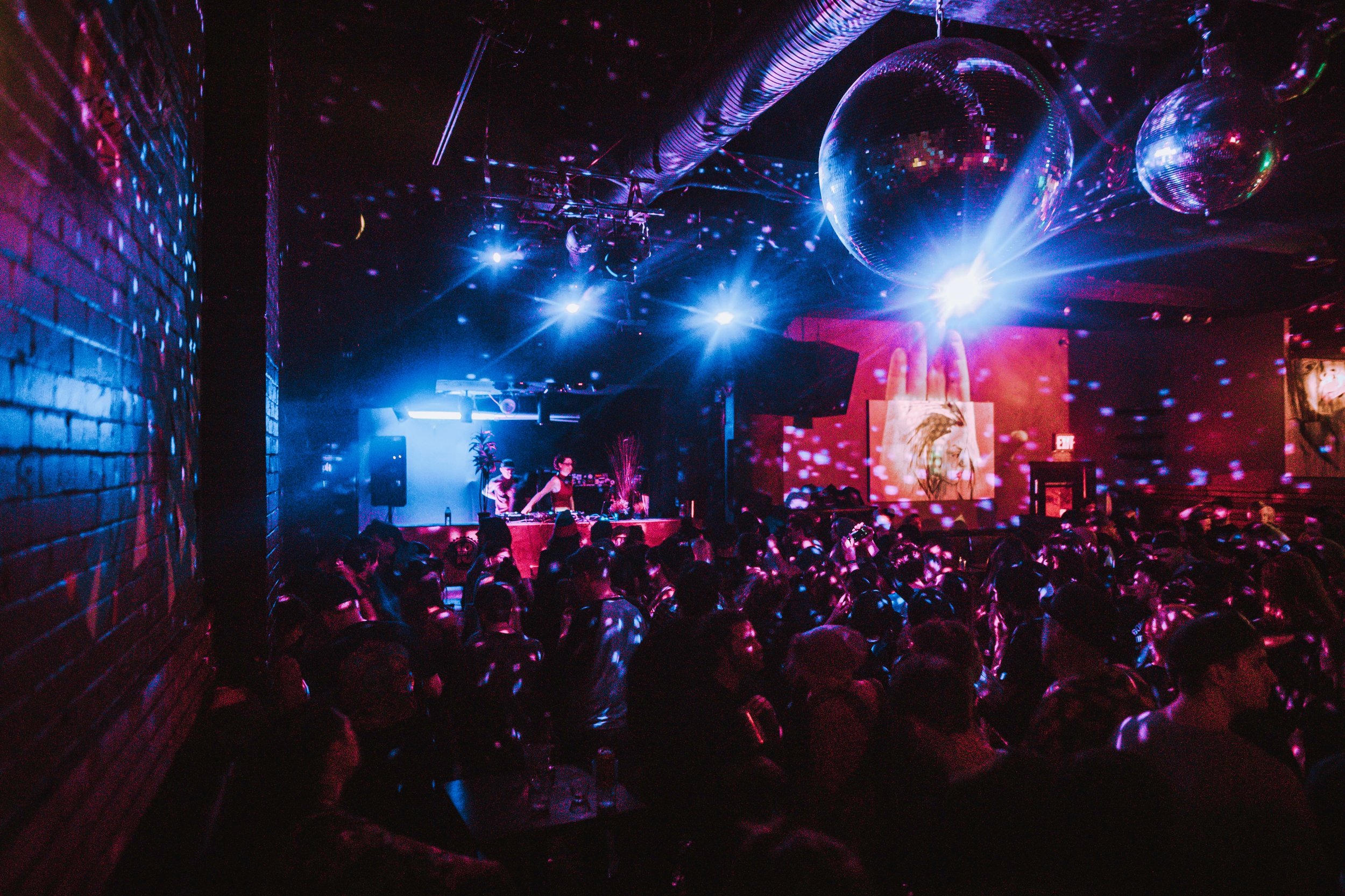 Welcome to the Alberta Electronic Music Conference. We're excited to see you and many other music enthusiasts visiting Alberta this year to connect, network and explore the nightlife program. We encourage all of our guests to enjoy the week to its fullest but remember to be responsible and party safely. See you on the dance floor!

- The AEMCON Team

Eat, sleep, learn, rave and repeat at your own pace
This is a long week! Make sure you're nourishing your body with sleep, food, and downtime. Other people's limits aren't yours, take care of yourself first.
Stay hydrated
Clubs get hot and days are long. Be sure to stay hydrated at all times. Drinking an electrolyte-replenishing beverage, such as an Emergenc-c or Gatorade, will take you to the next level of safer partying by preventing dehydration and hyponatremia. Gatorade concentrate is available at the Calgary PartySafe booth by donation. Glasses of water are available free of charge at all AEMCON venues.
Take care of each other
If you witness behavior that you think isn't cool, report it to event staff immediately and/or try one of a few bystander intervention techniques: Direct: Only when it is safe, directly respond to the harassment by confronting the harasser. Distract: interrupt the situation yourself by creating a distraction to help the victim. Delegate: Ask someone from the venue or an authority for help dealing with the matter. Delay: Make a difference for the person affected by the incident by checking in with them after, offer to create a statement if required by them. Always listen to the victim's wishes.
Always have safe and consensual sex
Make sure your friends know where you are. If you go home with a new friend, practice safer sex by using a condom or other barrier protection method. Condoms are available at the PartySafe booth at Studio Bell on Friday & Saturday and King Eddy on Saturday night. Remember, consent is sexy; ask the cutie before you touch the bootie. If you or the person you met is too intoxicated to proceed with the fun, try: "I've loved connecting with you - here's my number, and we should pick up where we left off when we're both in a more clear frame of mind".
Protect your ears
Hearing protection is strongly encouraged at all events. Take breaks from the front row at shows and give your ears a rest. Discounted custom AEMCON Ear Peace earplugs can be purchased at Studio Bell on Friday & Saturday. High fidelity, reusable and single-use earplugs can be picked up by donation from PartySafe at Studio Bell on Friday & Saturday and King Eddy on Saturday night.
Using drugs and alcohol is never without risk
AEMCON does not condone the use of illegal substances. If you choose to use alcohol or drugs, please do so responsibly. Harm reduction resources will be available on Friday 9:00PM-1:00AM at Studio Bell, Saturday 10:00-5:00PM at Studio Bell and Saturday 9:00PM-1:00AM at King Eddy. Illicit fentanyl has been sold as and mixed with a variety of other street drugs within Alberta in recent years. In response to the opioid crisis, Alberta Health Services are distributing naloxone kits free-of-charge at various locations and recommend that people who choose to use drugs use 'test doses', avoid speedballing and mixing, start low and go slow, carry naloxone kits and never use alone. For more information on fentanyl harm reduction tips and where to obtain a naloxone kit visit stopods.ca or stop by the PartySafe booth.
Don't drink/drug & drive
Don't drink/drug & drive. You are a large risk to yourself and others. Calgary has UBER, as well as a number of taxi services, all of which have phone apps you can download before the conference. Here are two numbers: Associated Cabs 403-299-1111 & Checker Cabs 403-299-9999.
Do you need help?
Door staff at all events are happy to help you if you need assistance. AEMCON volunteers are wearing RED AEMCON shirts and are ready to assist you in any way possible. If you are having a medical emergency offsite, please call 9-1-1. The Calgary Distress Centre Calgary can provide crisis support, counseling and referrals at no cost 24 hours a day 403-266-4357. Connect provides resources to those who've experienced domestic and/or sexual abuse at http://www.connectnetwork.ca/
Inclusion
Everyone at AEMCON has a right to feel safe and welcome at all events regardless of race, colour, ancestry, place of origin, religious beliefs, gender, gender identity, gender expression, age, physical disability, mental disability, marital status, family status, source of income, and sexual orientation. (Alberta Human Rights Act)
Web Resources
The Society for the Advocacy of Safer Spaces (SASS), Calgary Communities Against Sexual Abuse (CCASA), Indigenous Resilience in Music (IRIM), CJSW 90.9 FM, Calgary Centre for Sexuality, Good Night Out Vancouver, Gay Calgary, Calgary Outlink, Calgary PartySafe, Indigo Harm Reduction.
Land Acknowledgement
AEMCON acknowledges Calgary as the traditional territory of the Blackfoot and the people of the Treaty 7 region in Southern Alberta, which includes the Niitsitapi (Siksiká, Piikuni, and Kainai First Nations), the Tsuut'ina Nation, and the Ĩyãħé Nakoda (Chiniki, Bearspaw and Wesley First Nations). Calgary is also home to Métis Nation of Alberta, Region III.
Additional Websites to Check Out
Calgary PartySafe www.facebook.com/calgarypartysafe
Electronic Dance Music Scene Harm Reduction Websites:
DanceSafe www.dancesafe.org
TRIP www.tripproject.ca
DEA licensed Independent Drug Testing Lab owned by DanceSafe and Erowid www.ecstacydata.org
Other Harm Reduction Organizations:
Safeworks https://www.albertahealthservices.ca/findhealth/Service.aspx?id=1702
CATIE http://www.catie.ca/
ANKORS http://www.ankors.bc.ca/prevention.php
STS Pain Pharmacy www.STSPain.com
More Recreational Drug Information:
Erowid www.erowid.org
Harm Reduction Information for Pregnant and Breastfeeding Women:
MotherRisk http://www.motherisk.org/women/alcohol.jsp
Addiction Information and Resources:
Many drugs used within the electronic dance music scene can be habit forming. TRIP! put out an excellent flyer recently on spotting dependency and maintaining balance while partying. http://www.tripproject.ca/trip/?q=node%2F1926
Alberta Health Services https://www.albertahealthservices.ca/amh/amh.aspx offers addiction programs, services and treatment facilities. A 24 hour hotline is available for referrals: 1-866-332-2322.
We have also had SMART and Narcotics/Alcoholics Anonymous recommended to us by users
Fentanyl and Fentanyl Analogs Information:
Alberta Naloxone access and Fentanyl information: http://www.albertahealthservices.ca/info/page12491.aspx
Responding to an Overdose:
Overdose Survival Guide: https://towardtheheart.com/naloxone/siteresources/overdose-survival-guide
Testing Kit Retailers:
DanceSafe, EZ Test, Bunk Police and Testing Kit Plus.
Responding to Domestic Violence and Sexual Assault
Connect: http://www.connectnetwork.ca/
Know Your Rights
PIVOT Law Society: http://www.pivotlegal.org/
Reducing Discrimination, Racism and Sexual Harassment/Assault within Music Environments
Society Advocating For Safe Spaces: https://sasscalgary.com/
Mixing With Prescription Drugs